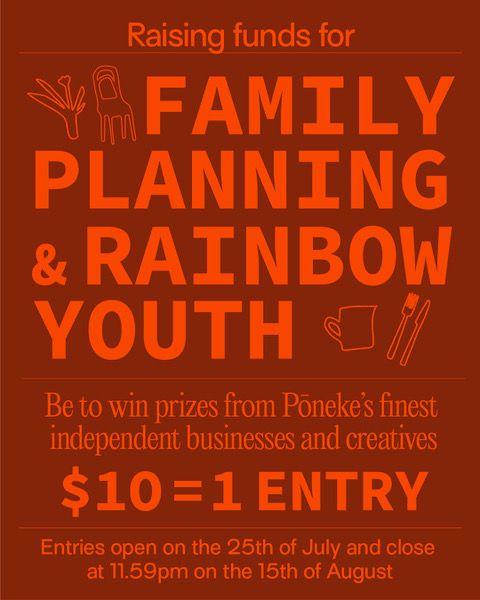 Kia ora mates, the world feels a bit bleak right now, it's day after day of the worst news ever, so taking inspiration from feminist icon Gloria Steinem's wise words "Don't agonise. Organise" I have gathered together some of Pōneke's finest creatives and independent business to bring you an epic giveaway to raise funds for Family Planning and Rainbow Youth. Donte at least $10 to either organisation and you'll go into the draw to win one of twenty seven prizes.

How to enter
Make a donation to Family Planning and/or Rainbow Youth and send a screenshot of your receipt to Eloise at hellomugmates@gmail.com or DM Mug Mates on Instagram
$10 = 1 entry, $50 = 5 entries etc....
Share this post on your story for an extra entry
Entries open on the 25th of July and close at 11.59pm on the 15th of August
Winners will be selected at random and contacted by Mug Mates the week of the 15th of August and have 48 hours to respond
Open to NZ residents only to keep things as smooth as possible with postage
You do not need to follow all the wonderful creatives and businesses involved, but if you like what you see go and give them a follow, this is about community not capitalism but we still have to pay the rent
Items will be posted/emailed the week of the 22nd of August
This giveaway is not sponsored, endorsed or associated with Instagram

Prizes up for grabs
Avara Studio ~ Ceramic Base Mirror

Best Wishes Studio ~ KLAY Round Disc Squab in Indigo Blue Canvas

Crumpet Bar ~ $50 gift voucher

Forest Drawn ~ 3x A4 print, greeting cards, and postcards bundles - pick from Forest theme, Wellington theme, or Pattern theme

French For Rabbits ~ Vinyl copy of their latest album The Overflow

Goodboy ~ Sammie Voucher for x3 Sammies and a Sammies Tshirt

Greta Menzies ~ Ceramic Sculpture

JPalm ~ NERVES OF STEEL Tshirt in black

Mabel's ~ $100 gift voucher

Mermaidens ~ Sneaky Snake Tshirt in white

Mooma ~ $50 gift voucher

Mug Mates ~ 6x ceramic bundles
set of mugs from Round VIII

a pair of tumblers by Avara Studio

a pair of tumblers by PegLeg Ceramics

a pair of mugs by Gretel Corrie

a pair of mugs by Sophie Harle

a jug by Holly Morgan

OFBODY ~ 50ml Fume, pick from Ambergris, Jasmine Stem, or Blood & Bone
Pinky Fang ~ A4 Custom Pet Portrait voucher
Ruby Joy ~ Checkerboard Cushion Cover
Shoe School ~ 1-day workshop, either Sneaker, Sandal, Slide or Harness
Sully's ~ $150 gift voucher
Twenty Seven Names ~ $200 gift voucher and a pair of socks
Wundaire ~ Fleur Vase


Any questions email Eloise at hellomugmates@gmail.com

Ngā mihi mates, together we can make a real difference

Eloise
xxx